TAKE ROOT
for the sake of others
two year goal | Giving To Date
November 26, 2016 through December 31, 2018
In all services on January 12 and 13, we celebrated all God did in and through us during the Take Root initiative. We were reminded of the impact that was made as a result of rooting our lives more deeply in Christ for the sake of others. We are thankful for the past and are looking toward the future of Christ Church in joyful expectation of all He can and will do through us.
Join us at any of our worship services on January 12 and 13 to celebrate Take Root. Together we will celebrate the impact of rooting our lives more deeply in Christ for the sake of others and glorify God for all He has done, while looking toward the future of Christ Church.
Take Root Culmination - Countdown
Throughout our two-year Take Root journey, we have heard numerous stories of life-change within our church family and we are trusting that God will continue to provide through our generosity. We are in a season of giving, but let's commit to living a generous life even after this initiative ends.
Worship + Grow - Countdown
At Christ Church, we have both Classic and Contemporary worship styles, allowing more people to feel welcomed here. The generosity of many has helped make this possible. We're overflowing with gratitude from the support throughout our Take Root journey and look forward to bringing more people into a closer relationship with God. Help us Finish Strong below.
November Quarterly Update
We are excited about the growth happening in our church, not just in our physical campus, but in the hearts and lives of so many here, near, and far. Read our latest Take Root Quarterly Update here!
Thanks to the generosity of many and the servant hearts in the Christ Church family, lives are changing here, near and far. We've been inspired to go into all the world and God is using us for good! Learn more about the ways you can serve and join the mission at Christ Church below.
Open House + Dedication Service
Christ Church on the corner of 31st St. and York Rd. is a place where you feel welcome, known and loved. We're thankful for the generosity and faithfulness of many that allowed us to expand our Oak Brook location so we can welcome more people into our community. We invite you to come thrive with us. See more updates throughout the construction project by clicking below.
God is on the move in the Downers Grove area and we are constantly inspired by what He is doing in the lives of the people at our first multisite branch. The amazing growth and life-change we are seeing is possible in part by the generosity of the Christ Church family! Click below for more information on what God is doing in the lives of people at our Downers Grove location.
Family Ministry - Countdown
The children and students of our Family Ministries are truly inspirational. We've been constantly in awe of the faith and generosity of some of the youngest people in our church family as they have played a huge role in our Take Root initiative by giving sacrificially. Click below for more information on programs and events for children ages birth through high school.
Prayer and CAre Ministry - Countdown
The Prayer and Care Ministry is one of the many areas of our church that has flourished and benefited from your generosity. Our 80 prayer ministers and pastors visit and call more than 300 people each month, bringing hope and help to those going through some of life's toughest challenges. Click below for more info on ways we can help you and your loved ones through some of life's toughest challenges.
Take Root Countdown Overview
Would you like to be a part of the impactful work God is doing through our partner, Resilient? Click below to learn how you can serve with us and help make a difference in the lives of people in our community.
Open House + Dedication Service
The time is here to give thanks and worship for the first time as an entire church family in the new Auditorium at Christ Church in Oak Brook.

The open house and dedication service will celebrate a defining moment for the church. A tour of the Oak Brook location will feature several points of interest, including the new atrium and auditorium; the classic worship service sanctuary; narthex; and children's Discovery Center. There will be refreshments in the Garden Plaza and live music. A dedication service of gratitude will follow in the new auditorium at 5:00 p.m.
September Construction Update
August Construction update
Sara Harris Take Root Testimony
Goodwin Take Root Testimony
Now that we're settled into our expanded parking lot along York Road, it's time to begin resurfacing the west lot. Starting This phase of the construction project will occur in two stages to maximize the amount of parking spaces.
To assist all weekend worshipers during this time, we will have the following accommodations in place:
A shuttle from the west portion of the West Lot directly to Door 2

A shuttle from Door 2 to Butler School as overflow parking, and then back to Door 2

An additional pedestrian walkway along the east side of the pond road
Once again, we thank you for your patience and flexibility during these changes. This will bring our overall Christ Church construction project one step closer to completion!
April Construction update
Family Ministry Generosity Project
Pencils for Kenya
For a child in Kenya, a single pencil can make a world of a difference. Families have to save for a very long time to buy one. When children receive one, many break it in half to keep part of it for safe keeping. The Christ Church Family Ministry is working to deliver the hope and tools needed to help our young friends across the globe. Watch below to see the impact you can help us make for the sake of others.
Lutey Take Root Testimony
Christ Church Downers Grove
Christ Church Downers Grove has been growing over the past two months. Take a look at how this new branch of the Christ Church family is spreading the life-changing love of Jesus to those around them.
March construction update
Garst Family take root testimony
January construction update
The construction team is keeping it interesting! Just like that, the yellow walls turned blue, and we can finally see what the worship venue will look like from inside. Take a look!
Downers Grove Update - January 22, 2018
The 180 members of the Founding Core of Christ Church Downers Grove are hard at work, preparing for the grand launch of our first multisite branch on Super Bowl Sunday, February 4, 2018! Here's a glimpse into the practice and preparation that has been taking place this month!
For more info on all things Christ Church Downers Grove, visit our website.
December construction update
Every week, there are new developments to see on the Christ Church construction site. Watch the latest drone footage of the progress here!
Final Beam Raising - November 27, 2017
On a chilly morning in late November, the staff of Christ Church watched one of the final large, exterior pieces of the new worship venue, raised to its place in the grand structure. Visit our construction page for the details!
Rebecca and ALlison Take Root Testimony
Peyton Take Root Testimony
Christ Church Downers Grove
Over the past 12 months, God has been stretching and growing us in ways we never thought possible through our Take Root journey. And we're not stopping there! Join us for this 5-week series starting October 14/15, "Flourish", as we dive into the inspiring book of Acts and take a deep look into how God can use us for the flourishing of His Kingdom.
Grow In Your Faith
Join A Flourish Small Group
At Christ Church, we believe that, many times, life-change happens in smaller communities of people. As we approach our Flourish series on the inspiring book of Acts, we are encouraging everyone to get into a small group.
OUR FIRST-EVER Multisite BRANCH
If you missed it, we announced the first-ever multisite branch of Christ Church - Christ Church Downers Grove - in worship services. Click here to see the exciting announcement from Rev. Dr. Dan Meyer and Rev. Eric Camfield and learn more about the season ahead!
Flourish Small Group Leaders
As we approach the mid-point of our Take Root journey, we are excited to kick-off our new Flourish Series. Last year, the church-wide Take Root small groups made a tremendous impact on hundreds of lives and we hope to grow that impact even more this year with Flourish small groups! If you have been considering a more active role but have been wary of the commitment, we have the perfect opportunity for you. We have 80 leader spots left to fill for this five-week study and hosting has never been easier. Each group would contain 8-10 people for 90-minute sessions each week. We'll provide everything you need: the training, curriculum, and even the people (though you are free to form your own group)!
Feeling called to lead? Visit the Small Groups page to register.
August Construction Update
Children's and Student
Ministry Summer Recap
Take Root Update | June 2017
Africa and Roosevelt road serve opportunities
We are making great strides in extending our reach and spreading the love of Jesus Christ through our Roosevelt Road and Africa Initiatives. Many from our church family have already begun to follow God's call to make an impact in these communities and we would like to invite you to do the same. From GO Team trips to Kenya to heartfelt prayers, there are many ways for you to be personally involved in these initiatives near and far. We would love for you to partner with us in being the hands and feet of Jesus in these two parts of the world. If you feel called to serve in any capacity, please stop by the SERVE Desk in the Commons on Sundays where you can find more information about how you can get involved or contact the Missions Ministry at 630.321.3921.
A MESSAGE FROM Rev. Dr. DANiel MEYER
record-breaking first big give
We are excited to share that we made history once again the week of November 25/26 with our first big give to Take Root! Through the grace of God and the generosity of our church family, we had a record weekly offering of $1.05 million. Please join us in praising God for his amazing vision for us to root our lives more deeply in Christ for the sake of others.
Through the generosity of God's Spirit at work in the life and heart of Christ Church, we have just made the largest single commitment in the history of any American church our size. That is just awe-inspiring!
In addition to reaching our primary Take Root goal of rooting our lives more deeply in Christ for the sake of others, we have committed more than $40,691,539.05 over the next two years to:
Establishing two new branches of Christ Church out in the communities around us
Investing more deeply along the Roosevelt Road corridor and other local mission partners
Helping with community development and evangelism in Africa
Expanding the number of seats for people to come and join us for worship and fellowship
Recovering the use of our fellowship hall
Expanding accessibility for people with mobility challenges
And so much more!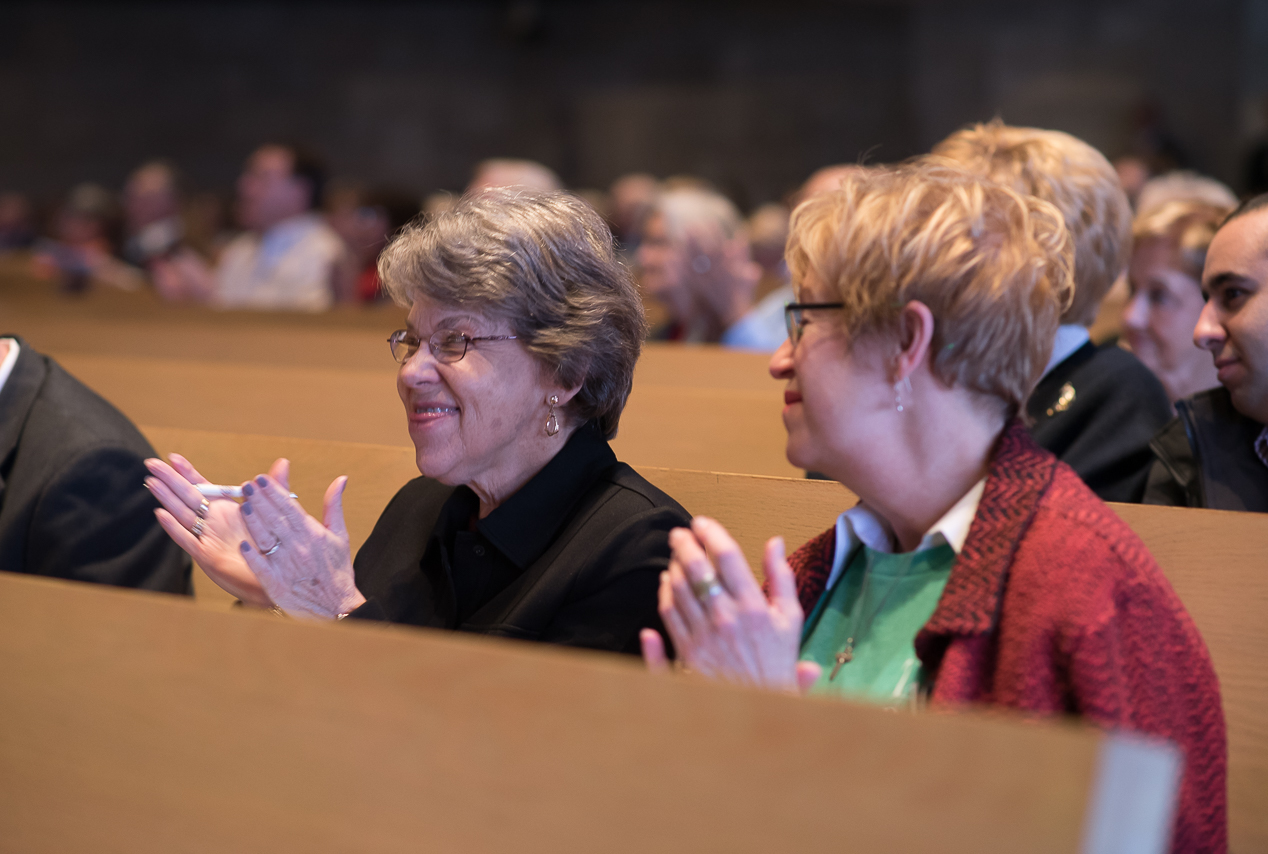 One Evening Made A Lifetime Of Impact
It is not every day that we ask our church family to attend worship in a tent. Stranger still, we held this service during game three of the Chicago Cubs playing a home game in the World Series! Yet, more than 600 of our leaders, volunteers, and our entire church staff came together on October 28 for a very pointed purpose—to lead out in their commitment to Take Root. If you were here, you felt God's vision moving in and through each of us as we worshiped together, heard stories of transformation, and listened to a profound message from Rev. Dr. Dan Meyer.